3 March 2015 17:37:04 GMT
Welcoming Your New Best Friend in the Classroom; This Stamp Will Change the Way You Mark… For Good!
Ask any teacher what their most common complaint is, and they're likely to say 'marking'. Marking student work is all too often a time-consuming, frustrating process- we have the solution - these revolutionary new teacher stamps will change the way you mark student work... for good!
Read More
30 December 2014 12:49:00 GMT
New Facebook Style 'Like' Teacher Stamp
Add some 'street cred' to your school marking with this cool stamp....
Read More
8 December 2014 18:19:51 GMT
Using Classroom Stamps to Help With Self-Assessment in the Primary School
Formative assessment is vital if you want to help your students to flourish in the classroom. However, the skill of self-evaluation and self-reflection is difficult to teach, and some pupils really struggle with it. Find out how our new stamps can help...
Read More
11 November 2014 20:27:20 GMT
Fantastic Feedback and Marvellous Marking: Making Life Easier (and More Effective) in the Classroom
Is marking getting you down? It's one of the most common complaints from teachers, yet, with the right marking strategy, it's also one of the simplest to address. Here are our top tips to help you make marking easier (not to mention more effective) in the classroom, using invaluable tools such as reward stickers and verbal feedback teacher stamps!
Read More
29 October 2014 07:30:00 GMT
Verbal Feedback Given Stamp - Now in 3 Colour Options!
Now available in red, green AND purple!
Read More
New Verbal Feedback School Stamp
These teacher feedback, student response stamps, provide an alternative to our current verbal stamp range.
Read More
10 June 2014 11:57:00 BST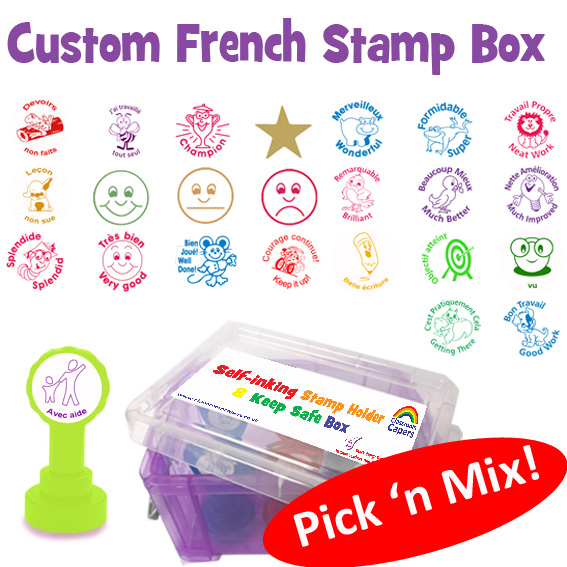 Exciting new product! Pick 'n mix French Teacher Stamper Box!
Self-inking stamp box sets offer great value for money and now with our Pick 'n Mix option they represent an even greater saving. Find out about this exciting Classroom Capers exclusive product for French and French language teachers.
Cliquez ici pour la version Française de cet article/page"
Read More
6 March 2014 09:43:41 GMT
Verbal Feedback Given. Pupil response:
New design self-inking teacher stamp to add to our ever growing KS2 + collection.!
Read More