24 February 2015 16:29:34 GMT
Using Classroom Stamps to Help With Self-Assessment in the Primary School
Formative assessment is vital if you want to help your students to flourish in the classroom. However, the skill of self-evaluation and self-reflection is difficult to teach, and some pupils really struggle with it. Find out how our new stamps can help...
Read More
11 February 2015 06:33:00 GMT
New Welsh Language Teacher Stamps
Under the National Curriculum in Wales, it is compulsory for all children to learn Welsh up to the age of 16 , either as a primary or secondary language. With our new range of Welsh Language teacher stamps this could be your classroom solution for highlighting a message on your pupil's work in a fun way! To find out more, read this week's blog!
Read More
26 January 2015 14:13:35 GMT
Making Reading Fun in the Primary School: National Storytelling Week
It's National Storytelling Week on the 31st January...have you incorporated some story-based activities into your current scheme of work? Storytelling is a brilliant way to inspire your students and ignite their enthusiasm; and best of all, there's no limit to the range of activities you can include in your lessons!
If you'd like some ideas as to how you can encourage your pupils with storytelling, simply read Classroom Caper's blog here.
Read More
7 October 2014 21:18:00 BST
Bon Travail! Great Tips for Helping Primary Pupils to Master Learning French
La Francais in the classroom? Pas de probleme! Teaching French at primary level, if done correctly, can be really rewarding, and provide children with a useful skill for life. To discover some useful ideas and tips on how to really get results when teaching French (and to see some really great French teacher stamps!).
Read More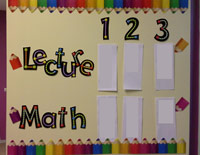 Classroom Display Maths Example
Our thanks to Sanléane for this display photo from her classroom
Read More
28 March 2014 09:43:00 GMT
4 day Easter Flash Sale Starts NOW!
Save money on our Easter themed smelly stickers, personalised stickers, borders, pencils and more! Sale finishes end of April Fools Day (no joke!). Read on for the promotion code....
Read More
6 March 2014 09:43:41 GMT
24 hour Flash Sale Mon 10th March - for World Maths Day 12th March
Checkout the maths resources included in this quick sale in honour of World Maths Day on Wednesday. Free delivery still included! Order before 2pm for dispatch on Monday.
Read More
10 July 2012 12:43:01 BST
A Sussex primary school teacher took on the challenge of our 'Turning the Tables on the Teacher' experiment to prove the power and effect of reward stickers.
Did she win Gold, Silver or Bronze.....?



Read More