14 February 2017 14:50:00 GMT
Teacher Designed Maths Stakz / Layer Stamp
What a nice teacher...Great designs to share...
Read More
Posted By Joanne Chandler
25 August 2014 15:43:34 BST
Educational School Displays and Posters: Getting Your Classroom Ready For the New School Year
If you're thinking about how you can decorate your classroom walls to best effect, then here is a helpful 'back to school' guide.
Read More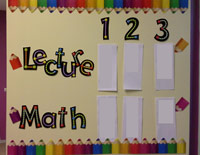 Classroom Display Maths Example
Our thanks to Sanléane for this display photo from her classroom
Read More
6 March 2014 09:43:41 GMT
24 hour Flash Sale Mon 10th March - for World Maths Day 12th March
Checkout the maths resources included in this quick sale in honour of World Maths Day on Wednesday. Free delivery still included! Order before 2pm for dispatch on Monday.
Read More
13 June 2013 12:39:01 BST
School Posters Selling Well!
Can you spot Sam behind the poster tower? We like to add a bit of fun to our day....
Read More
9 January 2013 13:26:14 GMT

Make Maths Fun with Personalised Stickers
Read More