4 April 2017 11:00:00 BST
Stuck for Classroom Display Space?
Don't be confined to your four walls...
Read More
13 October 2014 13:56:49 BST
Time to Get Spooky! Halloween Ideas for the Classroom (Halloween Stickers, Posters and More!)
Halloween is approaching and it's time to get ghoulish in the classroom! Read our latest blog for some great tips on how to decorate your class for the big event, how to keep your students motivated, and how to inject some seriously spooky fun into their learning!
Read More
14 August 2014 07:50:00 BST
New Self-Adhesive Roll Border Designs!
Checkout our 3 new border roll designs that will create a colourful classroom to welcome your students back to school!
Read More
14 August 2014 06:45:00 BST
Visual Learning in Primary Schools: Why Classroom Display Border Rolls can Greatly Assist with Learning and Development
It's undeniable that our new self-adhesive border roll designs are fab :0) but how can they help learning in the classroom. Find out our thoughts here....
Read More
Mustache Mania Teacher Bundle!
You've seen the stamp, now here's some fab mustache classroom resources teachers will love. We've created this extra special bundle to save you money buying the set...
Read More
Top tips on How To Make The Classroom A Brighter Place To Learn
When it comes to decorating classrooms you need to think about what it constructively, what can you do that will be bright and fun without being too distracting?
Read More
Look what I discovered today!
We're I've just opened a pack of CTP1194 Poppin' Patterns display letters - let me tell you what I found...
Read More
7 February 2013 10:34:06 GMT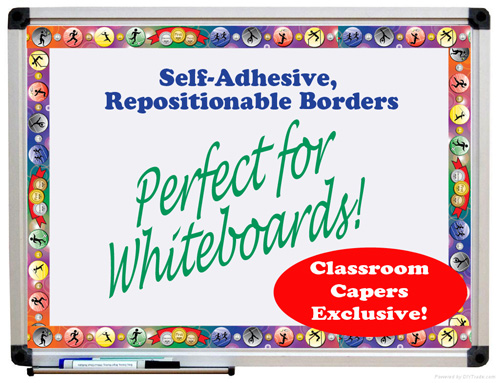 Uplift Your Classroom Displays with Whiteboard Borders
Quick, creative ideas with borders that make an instant impact.
Créez un effect déco et coloré immédiat en ajoutant une bordure à votre tableau interactif
Cliquez ici pour la version Française de cet article
Read More