21 January 2015 06:33:10 GMT
Champion Nutrition! Using Reward Stickers to Encourage Healthy Eating in the Primary School
With mandatory new rules for school meals in England now in effect, since the start of term, local authority schools, new free schools and schools that convert to academy status have task of encouraging children to eat more vegetables and to drink more water. No doubt this won't be an easy task, so we've come across a strategy that might help. Recent studies have shown that reward stickers, combined with a bit of friendly competition, can really motivate kids to eat their greens. To find out more, read this week's blog!
Read More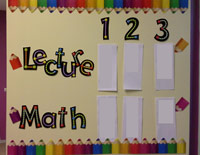 Classroom Display Maths Example
Our thanks to Sanléane for this display photo from her classroom
Read More
Race Into Action: Planning For Sports Day!
Read More
Soyez prêt à entrer en Action : Préparez-vous pour la Journée du Sport !
La Journée du Sport est l'une des journées les plus attendues du calendrier scolaire. Elèves comme professeurs sont impatients de quitter leur salle de classe afin de partager un excellent moment sur le terrain, au soleil et participer à de nombreuses activités dans un esprit de compétition amicale.
Read More
6 March 2014 09:43:41 GMT
24 hour Flash Sale Mon 10th March - for World Maths Day 12th March
Checkout the maths resources included in this quick sale in honour of World Maths Day on Wednesday. Free delivery still included! Order before 2pm for dispatch on Monday.
Read More
4 March 2014 19:43:41 GMT
Our vote for this World Book Day - 'Wonder' by R J Palacio
This book has captivated KS3 students and parents too!
Read More