Teacher Talk Blog | MFL Marking Problems....
27 April 2015 09:41:00 BST
MFL Marking Problems...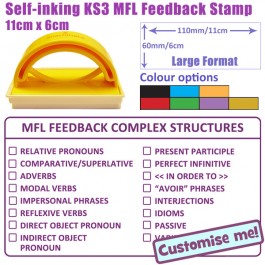 One of the KS3 Modern Foreign Language teacher's biggest woes is marking work. It's not only incredibly time consuming, but it's also difficult to provide really useful feedback for the student, identifying what they did well and what needs improvement.
Helpful Feedback Stamps
Our MFL Feedback stamp provides the definitive solution. The large-scale, self-inking design enables you to swiftly alert the pupil to their main grammatical mistakes; allowing them to gain a far better appreciation of what areas they need to work on.
Best of all, this stamp is completely customisable; and if you've got an idea for a completely new stamp, we'd love to hear it! If we think it's particularly great, we'll design it, add it to the site, and give it to you for free!
Check out this specialised stamp here: http://www.classroomcapers.co.uk/mfl-feedback-complex-structures-teacher-stamp.html