Teacher Talk Blog | The Woes of Homework Marking
13 April 2015 14:34:03 BST
The Woes of Homework Marking
Ask any teacher what the least favourite aspect of their job is, and it's likely they'll mention marking. Assessing student work and providing useful feedback can be incredibly time-consuming, leaving many teachers desperately looking forward to the school holidays for a chance to finally get some time back in the evenings and weekends!
Cutting Time, Without Compromising on Quality
Classroom Capers' six-stamp homework marking box set provides the perfect solution. There's a stamp to indicate when homework has been set (to ensure that your students don't forget), and a stamp to alert students when homework has been handed in incomplete. There's also a 'good homework' stamp, a 'check work carefully' stamp and a stamp to indicate that verbal feedback has been given. Finally, there's a 'pupil response' stamp for when you'd like your students to provide some feedback of their own!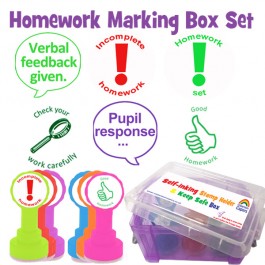 Get Your Evenings Back...
Using these stamps in your marking can save you a lot of time, which is highly welcome if you find yourself spending hours in the evening writing comments on your students' work.
You can see the stamp set here:
http://www.classroomcapers.co.uk/homework-marking-feedback-stamp-boxset.html