23 January 2015 07:49:00 GMT
New Pupil response and Student response Teacher Stamps
2 new school stamps to complement verbal feedback in the classroom....
Read More
30 December 2014 12:49:00 GMT
New Facebook Style 'Like' Teacher Stamp
Add some 'street cred' to your school marking with this cool stamp....
Read More
10 December 2014 12:30:00 GMT
New French Language Teacher Stamps!
Not 1, but 5 new stamps created especially for our much valued French teachers...
Read More
8 December 2014 18:19:51 GMT
Using Classroom Stamps to Help With Self-Assessment in the Primary School
Formative assessment is vital if you want to help your students to flourish in the classroom. However, the skill of self-evaluation and self-reflection is difficult to teach, and some pupils really struggle with it. Find out how our new stamps can help...
Read More
11 November 2014 20:27:20 GMT
Fantastic Feedback and Marvellous Marking: Making Life Easier (and More Effective) in the Classroom
Is marking getting you down? It's one of the most common complaints from teachers, yet, with the right marking strategy, it's also one of the simplest to address. Here are our top tips to help you make marking easier (not to mention more effective) in the classroom, using invaluable tools such as reward stickers and verbal feedback teacher stamps!
Read More
5 November 2014 09:30:00 GMT
New 'Your Next Steps' and 'Next Steps Achieved' teacher stamp
Save time providing marking feedback with these 2 new 'feet' design stamps
Read More
29 October 2014 07:30:00 GMT
Verbal Feedback Given Stamp - Now in 3 Colour Options!
Now available in red, green AND purple!
Read More
15 October 2014 12:12:00 BST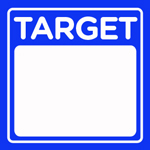 Bullseye! How to Set Useful Targets in the Classroom, and How to Use Target Teacher Stickers Effectively
Setting targets in the classroom: If done well, establishing targets for students can really serve to motivate, invigorate and encourage kids to take responsibility for their own learning development. Read our blog to discover a few helpful tips to ensure that you're using targets effectively in the classroom
Read More