22 July 2015 08:56:00 BST
New Religious Education Teacher Stamps
We are pleased to expand our subject range to now include 2 RE specific stamps...
Read More
New School Stamps Website!
With one of the largest ranges of teacher stamps available online - offering almost every every size and colour (many exclusive to us) in both custom and stock options - we've created a new, sister site to show off our exciting range.
Read More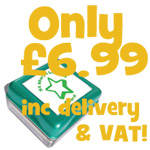 New Custom Stamp for the Classroom – Cheapest Price Available!
School stamps are indispensable when you're marking or commenting on student work. Our new fantastic custom Xstamper stamp is available at an incredible price – though hurry, stocks are limited!
Read More
New Adborth Llafar, WelshTeacher Stamp
We now stock this important Verbal feedback message in Welsh!
Read More
27 April 2015 09:41:00 BST
MFL Marking Problems...
If you're a MFL teacher at KS3, and you're worn out with marking, it's time to start making changes to the way you do things. Classroom Capers innovative large-scale feedback stamp makes marking that much easier, and provides clear, simple feedback for your students...
Read More
23 April 2015 07:49:00 BST
Incredible Value, Verbal Feedback Given Teacher Stamps
Research shows this is the cheapest, best value, super duper teacher stamp (with Xstamper quality) 'anywhere'!

Read More
16 April 2015 09:50:00 BST
Knowing the Times Tables
The days of chanting your times tables until memorised have thankfully gone. However, many children still struggle to master this important mathematical skill. Our range of easy-to-read stamps provide the ideal classroom resource to help students learn their times tables.
Read More
13 April 2015 14:34:03 BST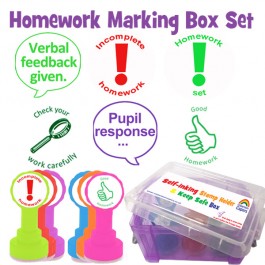 The Woes of Homework Marking
Marking can be incredibly time-consuming when you're a teacher. Classroom Capers' innovative set of homework and feedback classroom stamps help you to provide high quality feedback for your students, without spending hours working in the evening.
Read More