"}}" width="120" />
New! Scratch Off Stickers!
How cool are these? Get creative with these fab new stickers and create games, awards and more!
Read More
21 January 2015 06:33:10 GMT
Champion Nutrition! Using Reward Stickers to Encourage Healthy Eating in the Primary School
With mandatory new rules for school meals in England now in effect, since the start of term, local authority schools, new free schools and schools that convert to academy status have task of encouraging children to eat more vegetables and to drink more water. No doubt this won't be an easy task, so we've come across a strategy that might help. Recent studies have shown that reward stickers, combined with a bit of friendly competition, can really motivate kids to eat their greens. To find out more, read this week's blog!
Read More
3 November 2014 12:30:00 GMT
Grace's Stickers Launch for Children in Need
Grace, the youngest member of the Capers Team (age 12), would like to show you her fundraising personalised sticker designs for Children in Need.&nbsp.
Read More
13 October 2014 13:56:49 BST
Time to Get Spooky! Halloween Ideas for the Classroom (Halloween Stickers, Posters and More!)
Halloween is approaching and it's time to get ghoulish in the classroom! Read our latest blog for some great tips on how to decorate your class for the big event, how to keep your students motivated, and how to inject some seriously spooky fun into their learning!
Read More
26 June 2014 09:45:00 BST
Creative Personalised Sticker Design
A Captain Cook pirate is the basis for this great personalised sticker!
Read More
10 June 2014 09:45:00 BST
Delightful Dinosaur Personalised Sticker Design
Kids love dinosaurs and we're sure they'll love this custom message sticker...
Read More
Frightfully Good Witch Personalised Sticker Design
Witches - not just for Halloween! How about this for a frightfully good message on our witch design personalised sticker?!?
Read More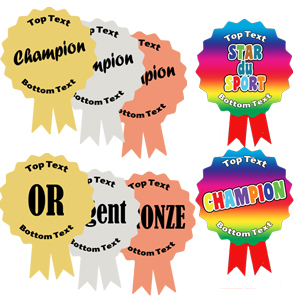 Nouveaux Autocollants Métallisés En Forme de Rosette
Ces nouveaux autocollants dans notre gamme à personnaliser en forme de rosette de couleur or, argent ou bronze sont vraiment spéciaux...
Read More