7 February 2013 10:34:06 GMT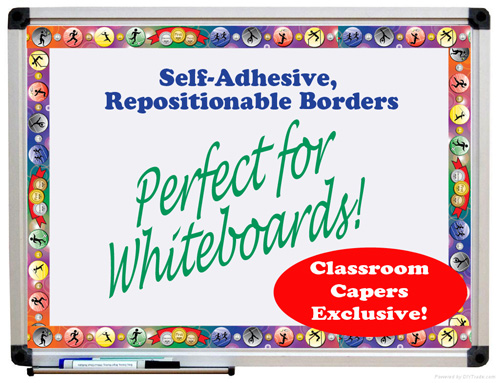 Uplift Your Classroom Displays with Whiteboard Borders
Quick, creative ideas with borders that make an instant impact.
Créez un effect déco et coloré immédiat en ajoutant une bordure à votre tableau interactif
Cliquez ici pour la version Française de cet article
Read More
Look what I discovered today!
We're I've just opened a pack of CTP1194 Poppin' Patterns display letters - let me tell you what I found...
Read More
Top tips on How To Make The Classroom A Brighter Place To Learn
When it comes to decorating classrooms you need to think about what it constructively, what can you do that will be bright and fun without being too distracting?
Read More
12 November 2013 21:29:08 GMT
French Classroom Display Photo
Jigsaw borders in action!
Read More
13 March 2014 20:42:00 GMT
New French Marking Stamps - Devoirs non faits and Leçon non sue
We're pleased to announce 2 new Capers exclusive designs to our self-inking School Stamps range....
Read More
13 March 2014 20:42:00 GMT
Introducing new Xstamper 3-in-1 sets
New pre-filled 3-in-1 multi-stampers to make your praise and marking stamp choice easier.
Read on to get 12% off with this launch promotion.
Read More
11 April 2014 07:45:00 BST
Celebration Kids Crowns Reduced!
Kids love dressing up and these colourful paper crowns are a great way to celebrate special occasions both at home in the classroom.

We're making way for a larger office so watch out for more special offers soon!
Read More
Mustache Mania Teacher Bundle!
You've seen the stamp, now here's some fab mustache classroom resources teachers will love. We've created this extra special bundle to save you money buying the set...
Read More