"}}" width="120" />
New! Scratch Off Stickers!
How cool are these? Get creative with these fab new stickers and create games, awards and more!
Read More
29 April 2015 07:50:00 BST
Is this the end of the red pen in student's school books? Many schools have replaced this traditional marking colour with a softer approach....
Read More
27 April 2015 09:41:00 BST
MFL Marking Problems...
If you're a MFL teacher at KS3, and you're worn out with marking, it's time to start making changes to the way you do things. Classroom Capers innovative large-scale feedback stamp makes marking that much easier, and provides clear, simple feedback for your students...
Read More
23 April 2015 07:49:00 BST
Incredible Value, Verbal Feedback Given Teacher Stamps
Research shows this is the cheapest, best value, super duper teacher stamp (with Xstamper quality) 'anywhere'!

Read More
21 April 2015 09:33:00 BST
Beating the Creative Block
There's nothing worse than feeling daunted at the sight of a blank page of A4. Many children experience this problem when asked to do artwork at school. Our range of colourful, themed paper enables children to work within a set frame, and let their imaginations run free! Our colourful paper may be the answer...
Read More
16 April 2015 09:50:00 BST
Knowing the Times Tables
The days of chanting your times tables until memorised have thankfully gone. However, many children still struggle to master this important mathematical skill. Our range of easy-to-read stamps provide the ideal classroom resource to help students learn their times tables.
Read More
13 April 2015 14:34:03 BST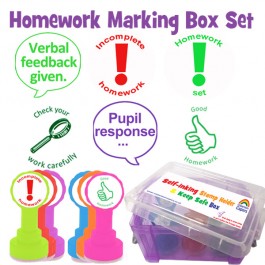 The Woes of Homework Marking
Marking can be incredibly time-consuming when you're a teacher. Classroom Capers' innovative set of homework and feedback classroom stamps help you to provide high quality feedback for your students, without spending hours working in the evening.
Read More
3 March 2015 17:37:04 GMT
Welcoming Your New Best Friend in the Classroom; This Stamp Will Change the Way You Mark… For Good!
Ask any teacher what their most common complaint is, and they're likely to say 'marking'. Marking student work is all too often a time-consuming, frustrating process- we have the solution - these revolutionary new teacher stamps will change the way you mark student work... for good!
Read More