22 July 2015 08:56:00 BST
New Religious Education Teacher Stamps
We are pleased to expand our subject range to now include 2 RE specific stamps...
Read More
New School Stamps Website!
With one of the largest ranges of teacher stamps available online - offering almost every every size and colour (many exclusive to us) in both custom and stock options - we've created a new, sister site to show off our exciting range.
Read More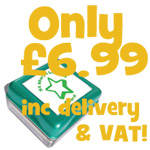 New Custom Stamp for the Classroom – Cheapest Price Available!
School stamps are indispensable when you're marking or commenting on student work. Our new fantastic custom Xstamper stamp is available at an incredible price – though hurry, stocks are limited!
Read More
The Importance of a Healthy Lunch
Help incentivise your pupils into eating healthily with these great 'Healthy Lunch' personalised stickers, and make your students feel that their efforts to stay healthy have been recognised and rewarded.
Read More
New Adborth Llafar, WelshTeacher Stamp
We now stock this important Verbal feedback message in Welsh!
Read More
"}}" width="120" />
New! Scratch Off Stickers!
How cool are these? Get creative with these fab new stickers and create games, awards and more!
Read More
29 April 2015 07:50:00 BST
Is this the end of the red pen in student's school books? Many schools have replaced this traditional marking colour with a softer approach....
Read More
27 April 2015 09:41:00 BST
MFL Marking Problems...
If you're a MFL teacher at KS3, and you're worn out with marking, it's time to start making changes to the way you do things. Classroom Capers innovative large-scale feedback stamp makes marking that much easier, and provides clear, simple feedback for your students...
Read More